A series on graphite resource development must include

Zenyatta Ventures Ltd. (ZEN: TSX-V)

, which has zeroed in on a graphite deposit in northern Ontario Province. Called the Albany Graphite Deposit, the resource is unusual in its volcanic origins. A preliminary economic assessment was published in January 2014, citing 25.1 million metric tons of graphite resource with another 20.1 million metric tons inferred.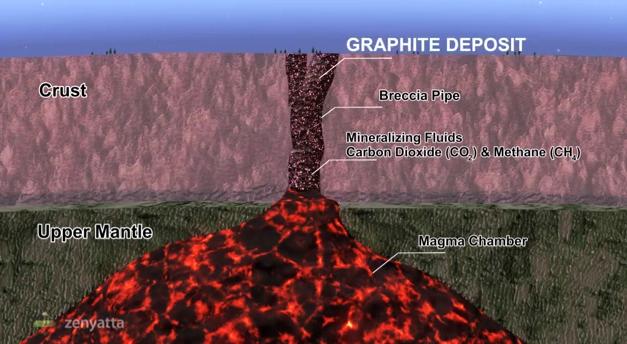 Early tests suggest the graphite is quite high in purity and is particularly suitable to the company's proprietary concentration process. Zenyatta plans to deploy a process using sodium hydroxide instead of environmentally unfriendly acids. Bench tests using this purification method on graphite from the Albany deposit have achieved carbon purity as high as 99.9%.
Zenyatta has much work to do to make its graphite plans into reality. Adequate capital is an obstacle. The company recently raised CDN$2.9 million through a rights offering. Shareholders subscribed to 3.9 million shares at CDN$0.75 per share, bringing total shares outstanding to 62.9 million. Management has a long list of things to do with the proceeds. Top of the list is the production of purified graphite samples to give potential customers for testing. Of course, there is more work to optimize the production process at scale.
More capital will be required to bring graphite ore from the Albany Deposit to market. Based on the success of the rights offering, Zenyatta's current shareholders clearly believe this goal can be achieved. It seems likely management can get additional investors to drink the same kool-aid. The preliminary engineering assessment cited capital costs near US$411.4 million for construction of the mine and production infrastructure. The build-out is expected to take at least two years.
Neither the author of the Small Cap Strategist web log, Crystal Equity Research nor its affiliates have a beneficial interest in the companies mentioned herein.